Short Report – QA/QC Meeting Feb 2022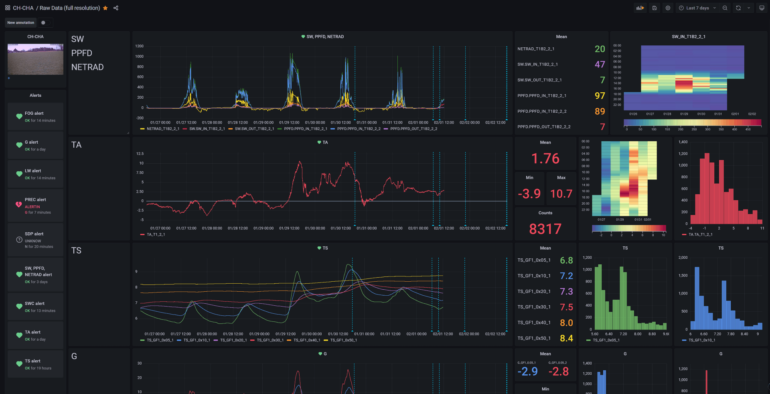 Meeting Date: 03 Feb 2022

Talking Points
Checking recent fluxes from our stations
List of Variable Abbreviations:

There is a list of known variable abbreviations that you can use in case you wonder what an abbreviation means: Variable Abbreviations.
SRPs have Editor rights for this list, which means that SRPs can add and remove (!Dangerdanger!) variables to/from this list.
Please add variables that were forgotten.

For those working with the PI dataset CH-DAV FP2021 (1997-2020):
Some scripts need an update, please contact LH
Update on the database (db):

The db is running on our server gl-calcs, most of the current data is ingested daily.
The name of the time series database is influxdb.
The QuickViews will be moved to the database, starting with the first sites this month.
The db allows us to explore the incoming data at full resolution.
The db should be accessible from your ETH computer and it also seems to work via hest2.
Example data from the db:
Info
If you are (Tech-)SRP, please attend QA/QC meetings or tell LH if you can't, needed for planning of the meetings.
SRP & Tech-SRP: please prepare short statement about your site and send to to LH (max. 2 sentences)
The purpose of QA/QC meetings is to check on current, incoming data. SRPs choose specific issues we should look at together and discuss in the group. Fluxes are checked if the respective SRP wishes to do so.
List of QA/QC Meeting dates: QA/QC Meetings 2022
Participants
LH, MS, RM, IF, AS, LK, MG, LS, MB (9)

Recent Fluxes

CH-AWS
Before/after gap-filling 2021
CH-CHA
Consistent CO2 uptake throughout January.
CH-DAV
CH-DAS
Weak CO2 emission (through the snow).
CH-FRU
CH-LAE
CH-LAE fluxes cannot be calculated at the moment due to an unknown file structure of the EC raw binary files. File structure changed after a site visit on 14 Dec 2021.
CH-LAS
CH-OE2
High CO2 uptake already at start of year.
Last Updated on 9 Feb 2022 09:15